Avaya Call Reporting
All-Purpose Call History and Reporting Software
Avaya Call Reporting* developed by XIMA, is an all-purpose call history, call recording, and real-time reporting software suite.
Avaya Call Reporting or ACR offers a revolutionary set of features designed to overcome the limitations of traditional call history and reporting software, by connecting directly to your phone system and logging everything that happens on each call, from the moment it starts to the second it ends.
With ACR, you can now purchase a Standard Report solution that reports on the entire office including your Extensions, Hunt Groups, Incoming Numbers, External Numbers, Account Codes, and more.
The Standard Report Solution installs in minutes and has a modern interface that is easy to use and inexpensive. You can also sell the solution to include Recording, Realtime Wallboards, and Agent Dashboards.
ACR Standard Reporting is the base license and is required for each of the add-on modules.
The license is a user-based license and is assigned to each extension found within the system.
The Standard Reporting solution comes with over 50 standard reports that report on all of your licensed Extensions, Hunt Groups, Incoming numbers, External Numbers, Tags, Account Codes, Inbound, Outbound and Internal Calls.
Each report can include charts or graphs and can be converted to PDF, Excel, CSV or HTML. Please note that the charts or graphs are only supported when using PDF.
The reports can also be scheduled to run hourly, daily, weekly, monthly and yearly. ACR stands out from all other solutions using the built in Cradle to Grave Program.
Compiling data reports can be tedious and costly, ACR call reporting solutions make it possible to schedule reports to be run automatically without hassle.

CALL RECORDING
Knowing what is happening on every call your employees are on can be difficult. ACR call recording solutions makes reviewing any call simple and easy.

REALTIME DISPLAYS
Better data breeds better results. Easier to monitor and for individuals to motivate themselves when their progress is visually displayed.

Standard Reports
Standard Reporting provides access to powerful reports and an intuitive Report Scheduler, this triggers ACR to run reports automatically every hour, day, week, or month and send them to an email address or save them to a file.

Custom Reports
For unique report information that isn't covered by our Standard Reports, the Custom Reports module provides the tools. ACR's custom report creator is easy to use allowing anyone to create custom reports in minutes. You don't need to know Crystal Reports, or be a developer.

Understanding Your Data
The data that powers all ACR reports is provided by a system that monitors and stores any phone transaction that occurs inside your system. You can view the underlying data at any time.
*Avaya Call Reporting replaces the Chronicall name.
As a starting package VExpress advises the following: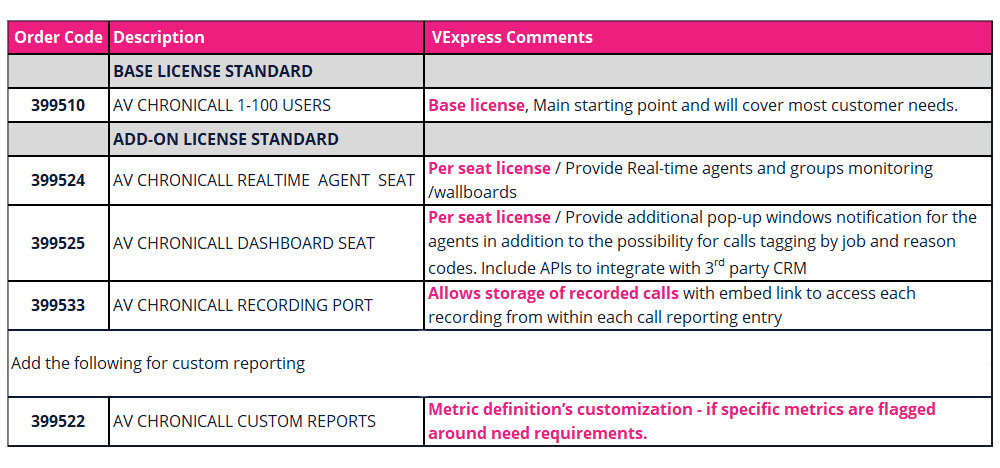 Speak to a VExpress today to obtain a quote or speak to us about your customer's call history and reporting needs.
T 02 8424 7979
E sales@vexpress.com.au