Itching for Switching with NETGEAR!
NOTE: Promotion for Telstra NETGEAR Certified partners ONLY
Are you looking for switches that are equipped for high performance and easy management?
NETGEAR Smart Managed Pro switches are purposely designed for SMB customers with high performance, SMB-oriented features and easy management - enabling SMB networks to support Voice over IP (VoIP), streaming media, multicasting, security, and many other bandwidth-intensive applications.
VExpress are rewarding you with EFTPOS Gift cards for selected switches purchased between 1st August 2018 and 30th September 2018.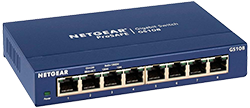 Purchase 5 x 8 Port GS108AU switches, receive a $25.00 Eftpos Voucher

Purchase 1 x 24 Port gigabit POE switch*, receive a $50.00 Eftpos Voucher

Purchase 2 x 8 Port GS110TP-200AJS switches, receive a $25.00 Eftpos Voucher

Purchase 1 x 48 Port gigabit POE switch*, receive a $100.00 Eftpos Voucher
*See Terms and Conditions for eligible models