Try Sennheiser's wireless headsets free for a month!
Get on your feet, and on your way to a healthier, happier, more productive workday!
Increased productivity.
It just makes sense: When you have your hands free, you can get so much more done! You can get a coffee, take a healthy jaunt up the stairs, walk around the office and interact with colleagues face-to-face instead of sending emails. This type of multitasking and collaboration are critical in today's fast-paced business world.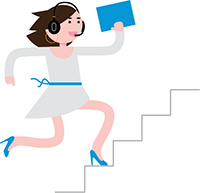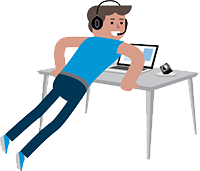 Take care of your wellbeing.
Sitting in a chair staring at a screen most of the day poses a serious threat to our health. Wireless headsets offer a solution to the problem, as they give us the freedom to walk around the office and multitask.
The high-quality materials and ergonomic design of Sennheiser headsets combine to maximize comfort for both occasional
and long-term users, making it easy to adapt to more mobile, healthy working style.
Get in shape! Try these wireless headsets free for a month.
Click on the images to learn more.
Are you interested in taking part in the Health and Well-being initiative brought to you by Sennheiser? Contact VExpress here to get your Toolkit and get to moving!